Tuesday, September 08, 2009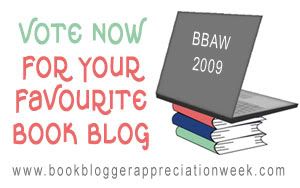 So, the shortlists for
Book Blogger Appreciation Week
were announced yesterday - sadly, BBB was not on there. *sniff* Ah well. The fact that even one person thought I deserved an award for Best Writing made my day. Truly, it was an honor (and such a confidence booster!) just to be nominated. So, thanks, y'all. Be sure and hit BBAW's "voting booth" to show some love for your favorite shortlisted blogs.
Did you notice how many book blogs Amy and her team sifted through? Over 1000. 1000! That's incredible. I have several hundred on my feeder, but that's not even a fraction of the awesome book blogs out there. My favorite part of BBAW is exactly this - I'm always thrilled to discover fantastic new book blogs. Thanks to Amy and her hardworking crew for putting this fun event together.
Reading
Listening
Followin' with Bloglovin'
This feed has moved and will be deleted soon. Please update your subscription now.

2 weeks ago
Grab my Button!